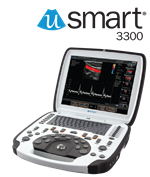 Redefining Simplicity in a Conventional Portable System
Burlington, MA, July 1, 2014: Teratech Corporation today announced the launch of the new uSmart 3300 Ultrasound System, the second in Terason's uSmart family of proprietary products released in the past year. This conventional portable ultrasound system is a fusion of Smart Technology and Smart Resolution Imaging, delivering an intuitive system with elite performance in shared service, hospital and outpatient sectors of point-of-care ultrasound.
The newly-designed, power-packed uSmart 3300 Ultrasound System is one smart system. The latest in technology, including a 1 TB Hybrid Hard Drive, ultra-wide viewing angles of 170º, and a high-contrast, long-life liquid crystal display will ensure the system is consistently at peak performance. Smart Resolution Imaging is a combination of Terason's CDP beam former technology and unique IIR signal processing, producing an image with heightened clarity and definition. A familiar layout gets better in Terason's Smart Console Design. Reliable and responsive high-quality buttons and a durable impact-resistant design for added protection are coupled with ergonomic soft key positioning and toggle buttons which reduce keystrokes providing better productivity, efficiency and diagnostic confidence.
Jeff Sirek, General Manager of Global Operations for Terason, states, "The uSmart 3300 is the second release in our Terason uSmart family of products and further enhances Terason's ability to offer a complete portable ultrasound solution to our users. The release reinforces our commitment as a full-service commercial portable ultrasound provider and will assist in our global efforts to expand the Terason brand."
As an industry pioneer, Terason is committed to delivering unprecedented customer satisfaction and quality products with the latest in computer technology and developments in ultrasound imaging available today. The new family of uSmart proprietary products enables Terason to build a stronger foundation of core products to reach more markets, both domestically and internationally. "The uSmart 3300 represents the latest in technology while providing a strong value proposition for our customers. The expansion of our product portfolio provides access to new market segments both in the hospital and outpatient sector" added Sirek. Terason strives to exceed expectations and industry standards, providing our customers with the latest advancements in portable ultrasound.
Follow us on Facebook and visit us on YouTube!
About Terason
Terason, a division of Teratech Corporation began in 1994, drawing upon technology developed at MIT's Lincoln Laboratory. Dr. Alice Chiang, CEO and Chairman of the Board, founded the company to apply developments in the fields of radar, sonar, and telecommunications technologies to the demanding requirements of battlefield ultrasound. Recognizing that decades of breakthrough research for the Department of Defense could be applied to the challenges of mainstream ultrasound imaging, she formed the Terason division. With initial key patents protecting the integrated circuit technology she developed at MIT, Dr. Chiang dedicated Terason to the development of a micro-miniaturized commercial ultrasound system.
Today, we continue to revolutionize ultrasound with developments in high-performance portable systems. The new proprietary uSmart products provide exceptional imaging capability and the advanced features and functionality users have come to expect from Terason. These complete ultrasound solutions optimize workflow, enhance clinical efficacy, and increase productivity for everyday clinical needs. For more information go to www.terason.com.
Contact
Susan Boschetto
Director of Global Marketing, Terason
781-270-4143