I am a Terason uSmart 3200T Ultrasound System, joining the team at Iredell County (NC) EMS. I'm getting unboxed today, and am ready to meet the team on March 8th, when the medics begin their ultrasound training with me. My company Terason will be sending clinical specialists to help our medical director get me into service ASAP!.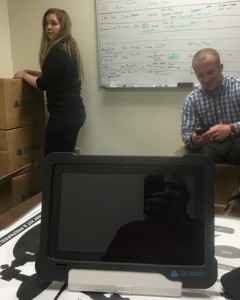 I will provide all kinds of vital information to hospital EDs, prior to the ambulance's arrival. Iredell EMS is focusing on trauma applications, so I will be doing eFAST exams and assessing for pregnancy in obtunded patients. The medics will be able to notify trauma teams about what they find, and my small size means that I can be carried right into the hospital to show the team the images they've captured. I'll also provide information during cardiac resuscitation. My images can help medics evaluate their protocol, and better help patients and their families. And, I'll be helping with IV starts and humeral IO placements.
I'm sure Iredell County EMS will find lots of other things for me to do, and I can't wait to get started!